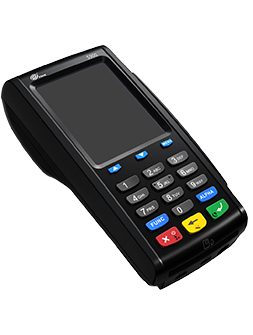 Optomany is a new name in the payment processing industry. They specialise in omnichannel payment processing technology and have made it their mission to enable your customers to take and process payments in any environment in a safer, faster and more efficient way.  
Optomany provide low-cost card machines that are reliable and stable with the added benefit of being acquirer agnostic, giving you complete flexibility.
Portable & Wi-Fi Card Machines
Whether you're a retailer looking for flexibility to serve customers throughout your store or a restauranteur looking to take payments at the table, Optomany's portable payment terminals allow secure payments to processed in any location.
Optomany recognise that most mobile or portable solutions in the payment processing industry were limited in that they only work with Wi-Fi or GPRS connectivity. Not only can this restrict solutions to certain location and environment types, it can also mean that some sales can be lost. As a result, Optomany developed an innovative card machine to not only utilise multiple communication methods but also switch seamlessly between them as conditions demand.
The axept® portable payment solution has been designed to offer maximum reliability and flexibility to enable you to safely accept and process card payments anytime and anywhere.
Optomany's axept® S900 Card Machine
The axept® S900 card machine offers merchants the highest level of transaction speed and security for wireless payments. This device is adaptable and can be used in standalone, semi-integrated and fully integrated configurations with Optomany's integration API, enabling seamless integration to your POS.
Optomany's axept® S900 card machine is capable of being configured to use GPRS, Wi-Fi or a combination of both and with a multi-network roaming SIM as standard. This card machine provides complete mobility and ease of use for both you as the user and your customers.
Other benefits include:
• The ability to Accept all major payment schemes and methods including mobile (e.g Apple and Android Pay), Chip and PIN, contactless and magstripe payments
• Supports major payment types such as sales, refunds, gratuity and card not present (CNP), mail order/telephone order (MOTO) transactions
• Offers maximum flexibility and up time with its long-life battery
• Eases PCI compliance – all payment processing is handled by Optomany's Level 1 approved axept® Platform, bringing you and your customer's confidence that payment details are kept safe
For more information view the axept® S900 card machine's datasheet here.